Welcome Alpha Phi Omega!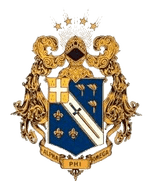 Alpha Phi Omega commonly known as APO, but also A-Phi-O is the largest collegiate fraternity in the United States, with chapters at over 375 campuses, over 470,000 students, and over 400,000 alumni members. There are also 250 chapters in the Philippines, one in Australia and one in Canada. The story of Alpha Phi Omega started with one man's vision of wanting global change in the lives of our youth.
After serving in World War I, Frank Reed Horton achieved his dream by coming together with other men from varying backgrounds bettering the world since 1925. Let's continue the legacy of growth and success for one of the nation's largest organizations on college campuses today. Our graduation stole with your colors of royal blue and yellow share the principles derived from the Scout Oath and the Law of the Boy Scouts, setting high standards for all members to follow.
Buy SOLO or buy in BULK to save!
Click on the product to see price options.