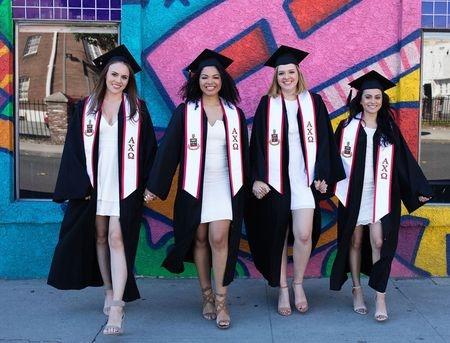 Hello Graduate!
Graduation is a special, once in a lifetime event that celebrates your personal achievements and all your hard work. A custom graduation stole or Greek graduation sash is the perfect way to celebrate your school affiliations, extra-curricular activities, honors, fraternity or sorority as you walk across that stage.
A custom grad stole or graduation sashes is not just a lasting memento that you will treasure forever. It's also the best way to share your individuality and personality while respecting and honoring the traditional attire of graduation. A custom graduation stole or Fraternity/Sorority stole lets you celebrate what makes you special, yet still fit right in with your graduating class.
The Sash Company has been helping graduates create lasting memories with custom graduation stoles for over a decade. Chosen as the official sash designer and supplier to the Miss America Pageant and many other prestigious pageants worldwide, The Sash Company brings the same experience, top quality service and attention to detail in our graduation stoles.
Why choose The Sash Company for your graduation stole?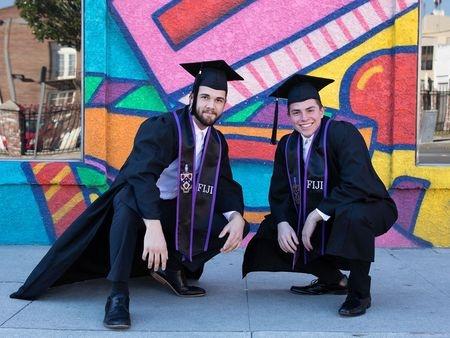 You want to be absolutely sure your graduation stole comes out perfect.
To finally achieve graduation, you've spent years doing things right. So of course you want to make sure you get it right at this once in a lifetime event. Our helpful sash design specialists understand. We're here to help you design the perfect graduation stole, for just you or for your entire fraternity, sorority, group or club. The very same design experts who design award sashes for famous pageants like Miss America are available to help you design the perfect graduation stole.
You want a professional look, with the highest quality available in a grad stole.
The Sash Company uses only the best quality materials like ultra heavy weight satin and Madeira embroidery threads. We proudly hand craft each and every stole from our offices in California, USA.
You want to make sure your grad stole arrives on time.
No matter what price you pay or how beautiful a stole is designed, if the company you order from can't deliver, it's a disaster on grad day.
We encourage you to order early to avoid rush fees and higher shipping charges, but regardless of when you order, The Sash Company guarantees to get your graduation stole order to you on time for the big day. No matter where you are in the world, yes, we can get your stole to you on time!