Dove with Olive Branch Clergy Stoles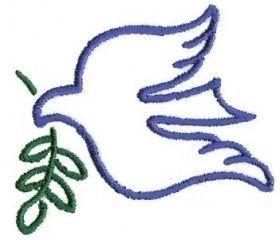 Extend a branch of goodwill or inspire hope as you wear this officiant stole adorned with an embroidered dove.
The bird carries an olive branch, making it a messenger of God's promise and one of the oldest religious symbols of peace.
Professional embroidery on high-quality satin fabric in a range of colors adds to the luxury of this clergy stole, which is designed to hold up to years of use or display as a celebrated memento.
Religious officiants can choose from lengths starting at 72 inches (visitation length) to meet the needs of the occasion. Design options include optional fringe and border trim colors.
Need a special length, or want to customize your stole with a favorite spiritual quote or other unique touch?
Contact us and our experienced stole design staff will be happy to help you create the perfect symbol of your faith.