Presbyterian Church Symbol Clergy Stoles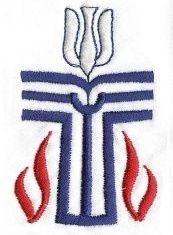 Seal your service vestments with the addition of this Presbyterian minister stole.
The satin fabric drapes comfortably and beautifully over robes or a suit, and our hand-sewn stoles are made to last for years of use. This stole is finished with the Presbyterian seal, a design featuring numerous symbols of the faith including a dove, cross, and fire.
You can choose from several color combinations and designs, matching your stole to existing church robes or decor. Purchase stoles in varying colors to match the themes of events or seasons as you officiate celebrations or deliver Sunday messages.
Need a special length, different color, or want to customize your stole with a favorite spiritual quote or other unique touch?
Contact us and our experienced stole design staff will be happy to help you create the perfect symbol of your faith.