Holy Spirit Dove Clergy Stoles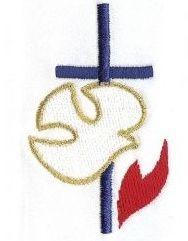 Put the right spirit forward when you officiate any religious event by starting with this Holy Spirit minister's stole.
Each side is embroidered with multiple colors using high-quality Madeira thread. The cross, dove and flame trio denotes the Spirit of God and Pentecost for most Christians.
Whether you're a pastor, reverend, bishop or other clergy member, this satin stole provides a professional finish to your robes or attire and is hand-sewn to exacting details for lasting performance.
Our officiant stoles come in a variety of colors and lengths, and you can opt for fringe or not. Order a stole to match the tone of a special service or existing church robes.
Need a special length, or want to customize your stole with a favorite spiritual quote or other unique touch?
Contact us and our experienced stole design staff will be happy to help you create the perfect symbol of your faith.