Wedding Unity Cross Clergy Stoles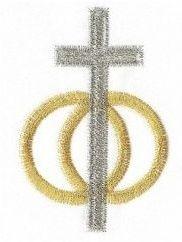 Add ceremony to the celebration when you wear this wedding minister stole!
The satin fabric is adorned with professional embroidery depicting a cross and intertwined wedding rings. The message is clear: You're joining two people together under the authority of Christ for what all hope is a lasting unity. Wear these robes to officiate weddings or conduct services for vow renewals.
Our high end stoles are hand-sewn and made with premium fabrics and Madeira thread, so you can rely on your stole for numerous occasions.
Luxurious construction also makes our clergy stoles appropriate for keepsake purposes, especially when you choose colors to match a momentous occasion.
Need a special length, different color, or want to customize your stole with a favorite spiritual quote or other unique touch?
Contact us and our experienced stole design staff will be happy to help you create the perfect symbol of your faith.