Crown with Cross Clergy Stoles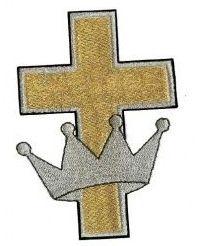 Purchase high quality vestments that are capable of serving as long as you are. Our crown and cross minister stoles are made of luxurious satin fabric that holds up over the years and feels comfortable to the touch.
Each clergy stole is hand-sewn and trimmed to ensure utmost quality, and you can choose from beautiful color combinations, trim options, and lengths to meet specific needs.
The classic cross and crown design is useful for weekly ministry or as an adornment during special services.
Wear this officiant stole for service at weddings, funerals, baptisms and other religious celebrations.
Need a special length, or want to customize your stole with a favorite spiritual quote or other unique touch?
Contact us and our experienced stole design staff will be happy to help you create the perfect symbol of your faith.