Welcome Alpha Sigma Alpha!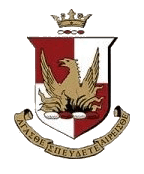 On November 15, 1901, five friends founded the Alpha Sigma Sorority at the State Female Normal School in Farmville, VA. They were all initially invited to become members of the school's existing sororities. However, imagine if they had accepted those invitations, it would mean that your Founders would not be sorority sisters.
Becoming the 4th Sorority to exist within the school. The purpose of the Alpha Sigma Alpha Sorority is to nurture values and ideals in women who are known for their character and heart. The Alpha Sigma Alpha Sorority inspires women to lead, to serve and most of all to make a difference. Since then, there are currently over one-hundred seventy-five chapters of the Alpha Sigma Alpha Sorority nationwide with more than one-hundred twenty-thousand members. Women of poise and purpose - let's bring our Sisters together and commemorate and honor this major accomplishment during graduation with our Alpha Sigma Alpha Sorority Graduation stoles. Graduation stoles that show Alpha Sigma Alpha Sorority Sisters never leave a sister behind! Bulk pricing available. Order your graduation stoles for you and your sorority sisters today!
Buy SOLO or buy in BULK to save!
Click on the product to see price options.