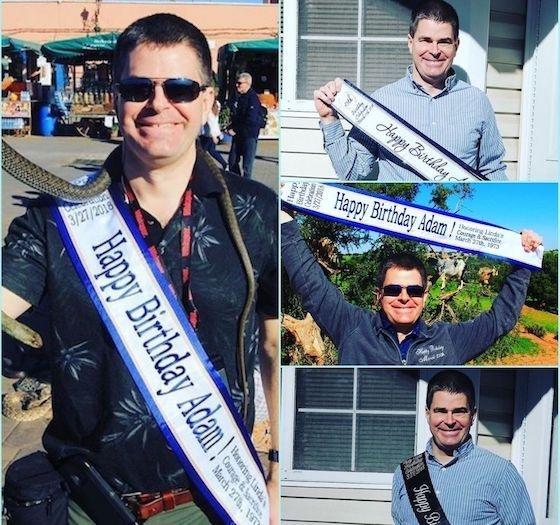 Meet our dear friend, Adam Lee Davis. He must be our #1 FAN.
It all started in 2006, while Adam was watching the Miss America pageant on CMTV, he saw a hanger labeled "The Sash Company." He then became curious about our company and after one custom sash order, he became a returning customer. Like many of our customers, Adam was impressed with the quality of our custom sashes and impeccable customer service.
Adam's first sash order was back in 2007, saying "Happy Birthday March 27th." Unfortunately, his sash was damaged, so he reordered another one the following year for his birthday. What started as a running joke of ordering a new sash every year, quickly became a tradition for Adam!!
We are so honored to feature Adam as our #1 Sash Fan. The more and more we get to know him, he is quite outstanding. A respectable nurse and world traveler. Adam has traveled to 48 countries and 5 continents, and he doesn't plan on slowing down anytime soon. By the age of 47, he will have visited 50 countries. What an amazing lifestyle.
Adam, thank you for choosing The Sash Company as your #1 custom sash provider. Keep living your best life. There is no mountain too tall and no ocean too deep for you.
You're probably wondering what it takes to be a "Sash Fan?" Stay tuned for our upcoming blog. I will unravel the secret to becoming a "Sash Fan" with The Sash Company.
Until then, keep it SASHY, friends!!