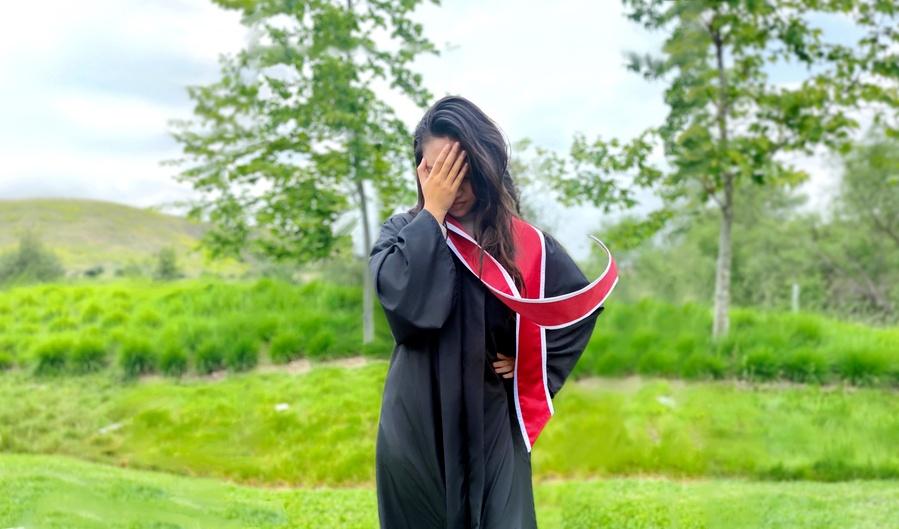 You'll treasure your college graduation photos forever. They're an amazing commemoration of a pivotal moment in your life. Your graduation photos pinpoint the moment you celebrate a major accomplishment and at the same time step forward into the life you're meant to lead.
But what if those photos look... well... a bit off? What if your graduation stole is blowing in the wind?
Or the slippery ultra satin fabric has shifted so your stole looks ridiculously uneven?
What if your custom graduation sash becomes twisted so you can't see the special commemorative embroidery showing off the details of your years at college?
Or what if all you have is your posed photos, but you missed all the special moments between you and your friends as you walked down the aisle and listened to the speeches.
Wouldn't you love to share those photos on Instagram and come back to enjoy them through the years?
At the Sash Company, we have a solution for you. Actually, two solutions.
Your custom graduation stoles now can stay reliably in place with hidden weights — and you can enjoy the one feature custom stoles have needed for years: Pockets.
These new features are game-changers. Keep reading to see just how a couple of simple additions to custom graduation stoles are going to change graduation day forever.
Amazing New Feature #1: Weights to Hold Your Graduation Stole in Place (and avoid any Photo Mishaps!)
You're walking down the air in a stately fashion as "Pomp and Circumstance" plays. You want to take it all, to treasure this moment forever — the watching families, the smiles of your friends.
You want to glimpse your family in the crowd, wave to them, pose quickly for that photo.
But you can't. Because your graduation stole won't stay in place.
It's slip-sliding away from one side to the other because of the shiny fabric.
Or the wind's blowing and all your attention focuses on keeping it in place so it doesn't blow or slide off completely.
Before you know it, you're at the end of your procession, and all you'll remember is wrestling with your graduation stole, and imagining how comical your once-in-a-lifetime pictures will come out.
It doesn't have to be this way. Not now that we have the new feature custom graduation sashes everywhere have been waiting for.
Weights.
We can now add hidden weights to keep your stole from twisting, turning, slipping, and flying wildly in the wind.
Even a light breeze can cause your stole to twist and tangle. And even simple movements — hugging a friend, waving to your grandmother in the crowd — can cause it to slip.
And don't even think about what might happen when you toss your cap into the air!
But at the Sash Company, we've got you covered.
You can now add weights to keep the bottom of your custom graduation stole in place. That means you can focus on what's important — your friends and family, your actual graduation.
It means your hands are free to hug, fist bump, and wave, without any worries about what your custom stole is doing.
Weighted graduation stoles change everything.
But they're only the first new feature we're bringing to graduation.
Because we've also added...
Amazing New Feature #2: Pockets (!)
Your graduation is happening right now. You want to capture it forever, share it live on social media, take the video that you'll look at 10 years from now with fond memories and pride.
But your phone is in your pocket. And your pocket is under yards and yards of your voluminous robe.
You might not be able to get to it in time, missing the perfect photo op.
Not to mention how awkward it looks to be pulling your robe up in public — maybe just in time for someone else to take an embarrassing photo.
Or, if you're a young woman walking down the aisle, you may not even have pockets under your robe to get to.
That beautiful white dress you're wearing under your robe might cling if you try to pull the robe out of the way, exposing more than you'd normally care to show in public.
Once again, we have the solution. At the Sash Company, we can now add a pocket to the backside of your custom graduation stole.
That one little addition to your stole makes all the difference. Your phone is in reach. And that's not all. In fact, we've come up with a list—
10 Things You Can Carry in Your Hidden Graduation Stole Pocket
1. Your Phone
Duh. Of course, you want your phone with you. Because it's also your camera. And your video camera. And your way to text your best friend at that crucial moment. It's how you'll grab those keepsake candid photos with friends and family.
And where are you going to put it? Under your graduation cap? That sounds awkward. Are you going to hold it the whole time? Also awkward. And we've already talked about how hard it is to use any pockets in your actual clothes under those graduation robes.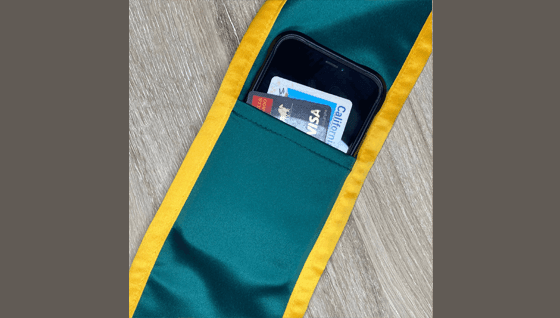 Your phone is also how you'll make sure you have contact information for those friends you won't be seeing every day now. Maybe even some of your professors.
It's how you'll Google that graduation speaker that you've never heard of but who everyone seems really impressed with.
And if the speeches go on forever, it's how you'll play a game to pass the time (we won't tell).
Yes, you definitely need your phone with you.
2. Your Keys
Sure, you could ask your mom to hold your keys while you walk down the aisle. But doesn't that seem a bit, um, high school?
Those are the keys to your apartment. Your car. And you should be able to carry them with you so you have them when you need them.
3. Photos of Loved Ones
Graduation is always an emotional time — and it can be especially so if there's a loved one who can't be there with you, perhaps because they've passed on.
Slipping a photo of your loved one into the pocket of your custom graduation stole is a wonderful way to keep them with you as you walk down the aisle, as you receive your diploma — and far more personal and intimate than pasting a photo on your mortarboard, where it could be lost when you toss it (or be ruined by people popping champagne wildly).
4. Your Graduation Speech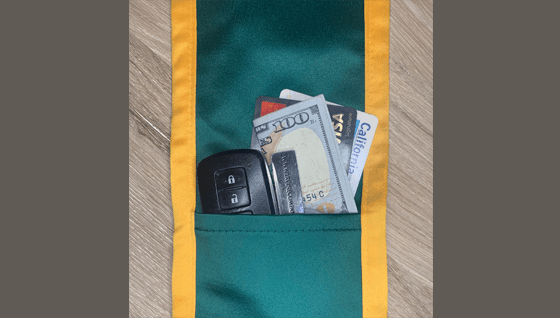 Whether you're the valedictorian or you've been asked to say a few words at the smaller, more personal ceremony for your major, carrying around a loose piece of paper is not something you want to do on graduation day. And you certainly don't want to have to hike up your gown when you're standing at a podium or in front of the mic to retrieve it!
Tuck that speech neatly into your graduation stole's pocket, and it'll be there right when you need it.
5. Snacks
How does two hours of sitting in the sun — or even three or four hours at a big university — sound to you? There's a reason you hear of people fainting now and then at graduation. It's not that they were overcome with emotion. It's that they got hungry waiting so long for their name to be called.
That pocket in your graduation stole can hold a granola bar or other snack to tide you over until that celebratory lunch with your family.
6. A Blow-up Beach Ball
Sometimes the real memories of graduation aren't about the speeches, but about what happens in between. Add to the joy of the occasion by bringing in a small flattened beach ball and blowing it up while you wait for your name to be called.
Just don't expect to get it back once you set it free to have fun with all the new grads waiting for their names to be called!
7. Tissues
Maybe it'll happen with the first strains of "Pomp and Circumstance." Maybe when you see your dad beaming so proudly as you move down the aisle.
Or it could happen when you suddenly realize that this is it — you will never walk the grounds of your college as a student again.
All we're saying is: Don't be surprised if your mom and dad aren't the only ones leaking a few tears at commencement. A little packet of tissues tucked into your graduation stole's pocket could keep that mascara from running. (And don't be surprised to hear another grad seated nears you whisper, "Hey, you got another one of those?")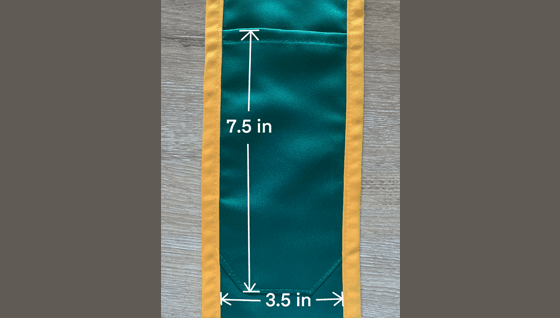 8. Stain Remover Pen
You're going to pose for more pictures on graduation day than on most days of your life. The last thing you want is a blotch of coffee stain from that last-minute gulp of energy before the whole thing gets started.
Play it safe by tucking away one of those laundromat-in-a-pen gizmos.
9. Pins
Safety pins to keep that honors cord in place. Bobby pins to keep your hair in place (or put it back in place after you've removed that awkward mortarboard).
Be prepared, and you'll never have a need to be disappointed.
10. A Fan
It could be hot on graduation day. Very hot, even. And those black graduation gowns are not typically made of breathable material. Keep yourself cool (in every sense) by slotting a foldable fan into your stole's pocket.
You might even want to consider one of those tiny battery-powered fans, which will make you the most popular person in your seating area. Just remember: Your mom and dad are always your biggest fans!
Just a heads up: If you get a pocket put into just one side of your custom graduation sash, make sure you add weights to the other side to counterbalance so your stole stays looking perfect.
At the Sash Company, we're committed to making your graduation day perfect.
We can design your personalized, hand-crafted graduation stole as an amazing keepsake with practical options to make your day even more memorable.
Talk to our graduation designers today to add hidden weights and pockets to a grad stole that you'll treasure forever.