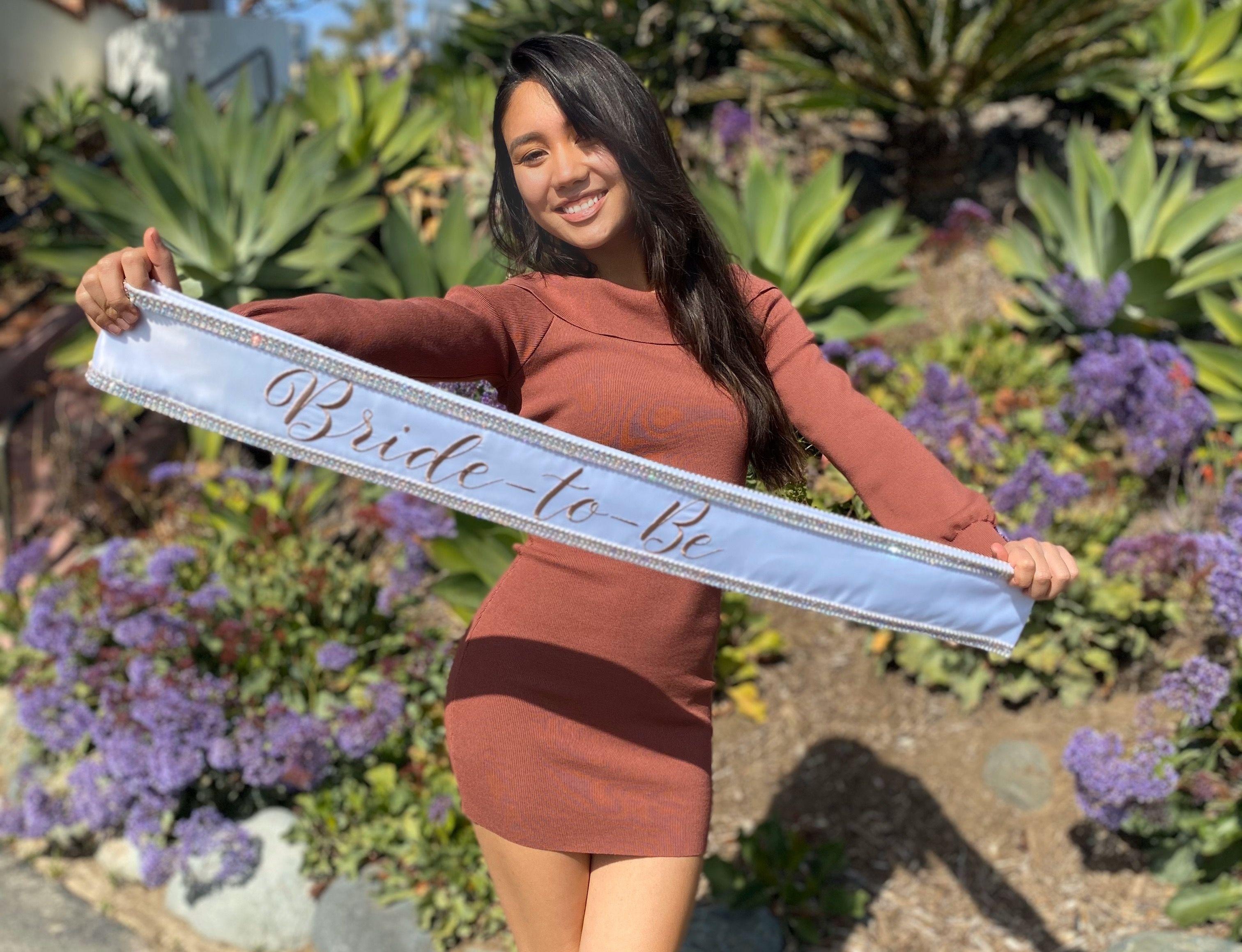 Hello, ladies! We hope you were able to tune into our Pageant Planet Facebook Live Takeover on how to look good in your pageant sash, and we hope you loved it! If you couldn't catch it or take notes… we've got you covered along with some extra special content not included in the Live! In our 3 part blog mini-series, we've got all the tips on how to look good starting with picture-perfect pageant sash poses and camera tricks, tips for crowning and getting crowned, how to care for your pageant sash, and traveling with your pageant sash safely and in style.
PAGEANT SASH PHOTO OPS
Some of the best parts about wearing your pageant sash are all the photo ops you'll encounter during your time of service as pageant royalty—especially with all the pageant events happening right now! The better the pictures come out, the more fun it gets to take them, and here at The Sash Company, we know more than a few tips to get a pageant sash to look extra good on camera! Get ready to dive in!
Posing
We know you girls are already pros in front of the camera, but we've got a couple extra tricks to add to your repertoire… For instance, you can try some triangles! Get some model-esque shots by using your body to create triangles. This way, your pageant sash lays nicely across your body and your photos are dynamic. Goodbye flat and boring! You can also have fun with your pageant sash and mix it up—aka sash it up! Every photo you take is different and unique, so let your pageant sash show it, too. See below some of our favorite poses inspired by our pageant titleholders who love to get creative with their sashes!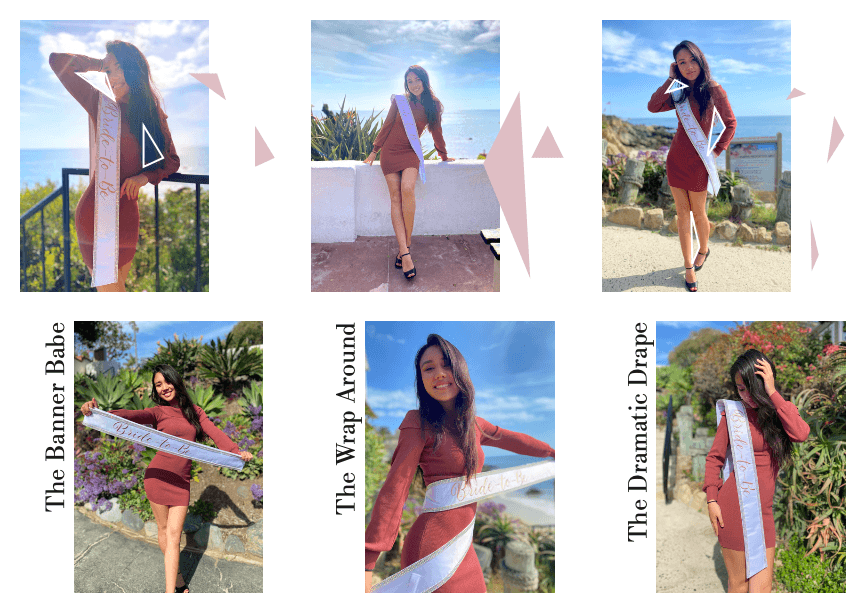 Camera Tricks for Extra Dazzle
With all that's going on in pageantry right now, we know you titleholders have plenty of photo ops and we want to help you make the best of them! Our rhinestone pageant sashes pack more sparkle than you can possibly imagine, but boy is it hard to get it to show up just right in photos. If you've seen the rhinestones in person, you know just how blindingly beautiful they are, so we're going to show you how to capture that on camera!
Lighting
First off, your bling is only as bright as your lighting. When outdoors, you'll get the most shine in direct sunlight, but it's absolutely the best when afternoon golden hour hits, which is about an hour before the sun starts to set. You can see in the no-filter, pageant sash photo below just how much sparkle that sunlight helps you catch! It's also a good idea to get a couple shots with and without flash, too. You'll find that the flash can help some of the rhinestones reflect directly back into camera, which causes that glittering effect.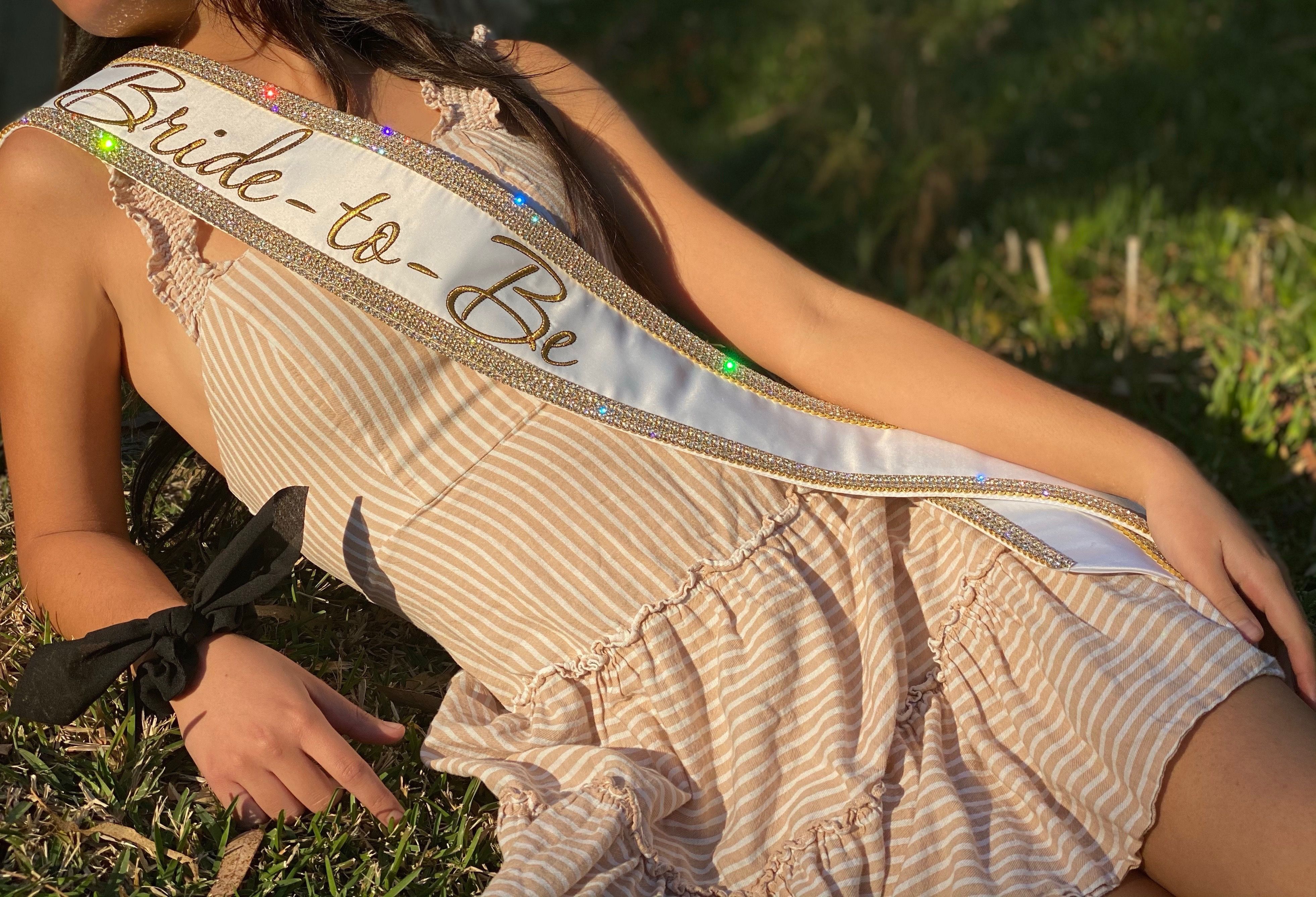 If indoors, dimmer lighting with the flash on will certainly get more sparkle out of your sash, but if you have the chance, multiple "flashes" work best. So, if you're with some friends or in a photography studio, moving flashlights and ring lights around in front of your sash will work wonders! Having more lights coming from different directions means there's a much higher chance that multiple rhinestones will reflect light directly back into the camera lens. It'll make your pageant sash look like a starry night just like the no filter photo below! Even if you don't have extra lights, the flash in a darker room with do just fine as you can tell from the bottom photo of the beautiful Miss Wyoming '18, Beck Bridger, and MAOT Wyoming '19!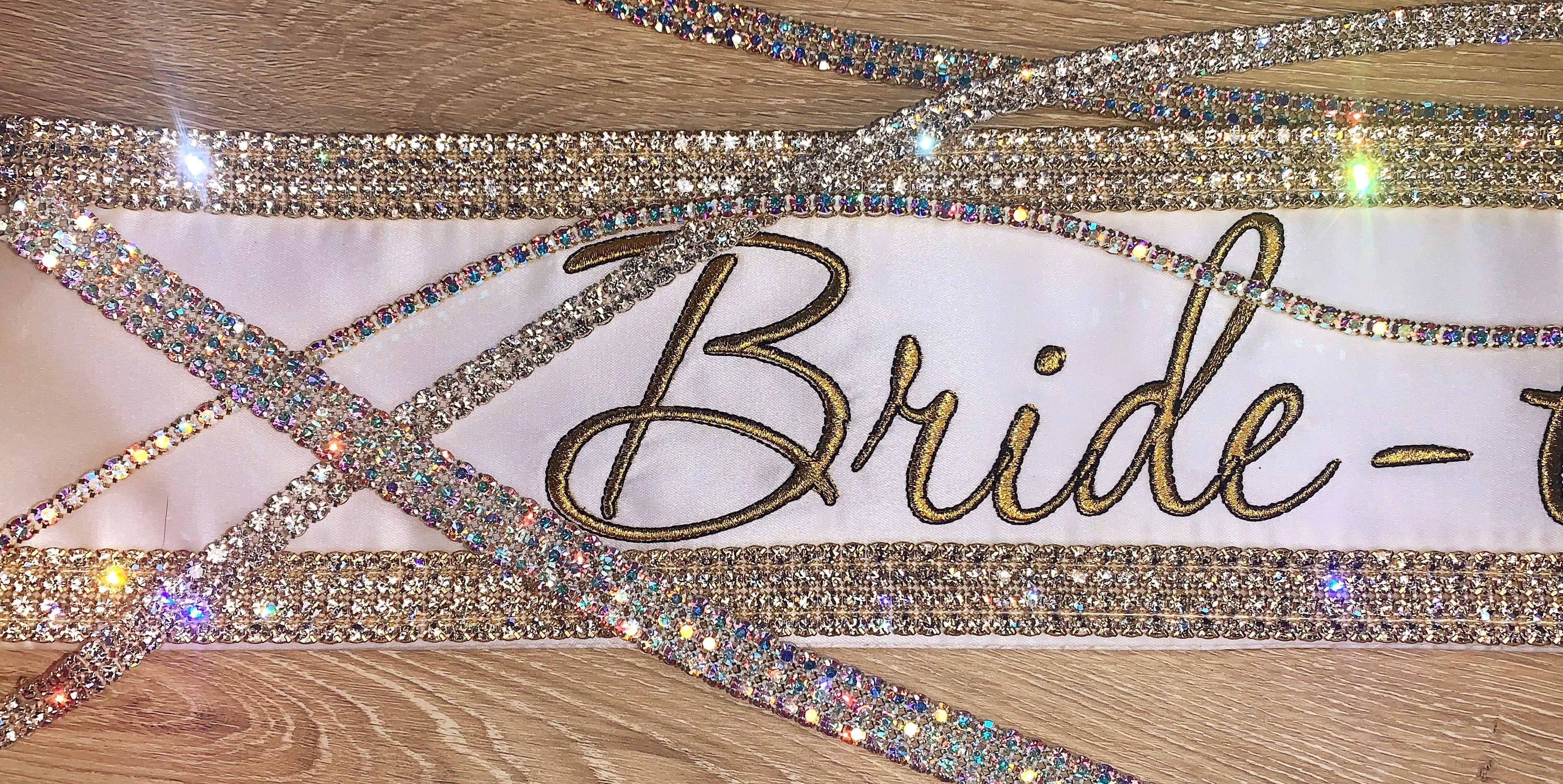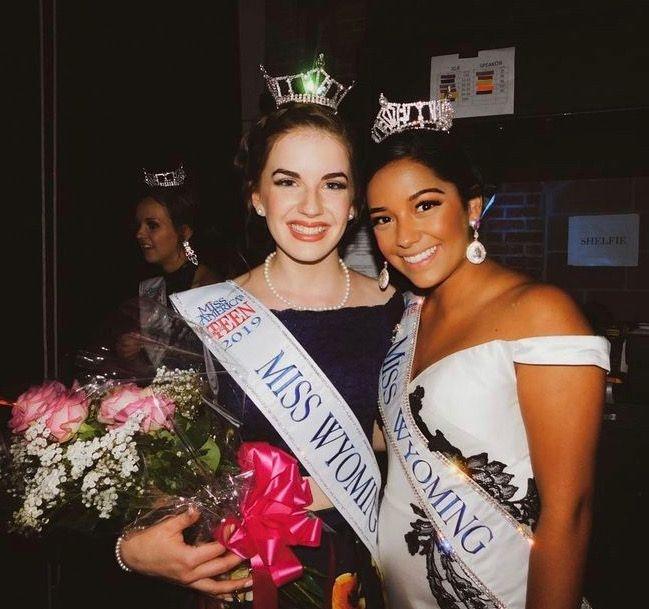 Motion & Movement
Our greatest secret weapon, though? Slow motion video. Using the techniques above with a little movement in your shots allows the camera to capture the actual twinkling effect of your pageant sash. Additionally, with slow motion photography being multiple frames, your camera can capture so many more rays of light that bounce back at the lens instead of a single frame photo. It'll have you and your pageant sash looking like an ocean dazzling under the sunset! Try giving a twirl, practicing your pageant walk, or moving the camera as you shoot to capture some of the best shots you could possibly imagine!
Check out the dazzle here: https://www.instagram.com/p/CLPfNzWnayt/?utm_medium=copy_link
Camera Settings
In addition to slo-mo video, portrait mode helps blur out the background distractions to help make you and your pageant sash the focal point of the photo! From a visual standpoint, this can help make those glittery pops of color from your pageant sash's rhinestones more front and center in comparison to your environment. You can see the subtle but powerful difference in the photo below!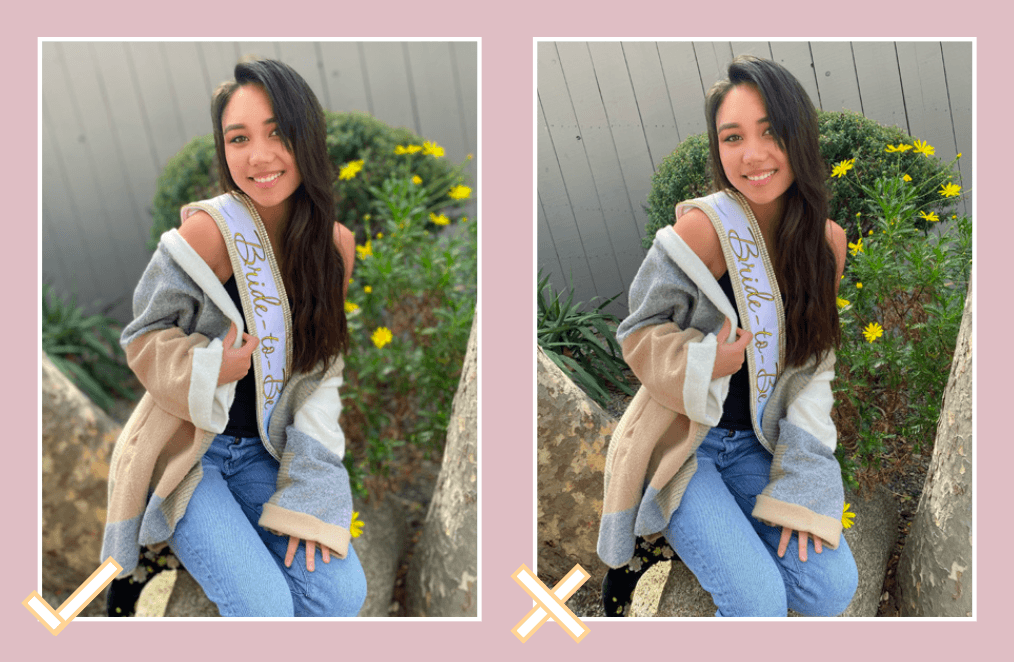 Camera Angles
To see the difference the camera angle makes, check out the photo below. When the camera isn't centered on the subject, you can see that the angle isn't too flattering (this usually happens when the person taking the photo is holding the phone up high by their face and angling it down to capture the rest of your body). To solve this, simply hold the phone level with the center of the subject's body (hold it close to the height of your hips) and make sure the camera angle is parallel with the subject. For extra-long legs, crouch down angle the camera up at the subject!