Many graduation stoles simply use school colors to brighten up the stark black of graduation gowns. For instance, a school whose colors are red and gold might opt for custom graduation stoles of red satin with gold embroidery.
However, over the years, an entire tradition of colors has grown and been expanded on to speak to different fields of studies, and many schools opt for this more multi-hued approach instead. The colors, of course, come into play again for students being hooded with advanced degrees, where the colored hoods indicate both the alma mater and the field of study.
While there's slight variation in the colors used for different majors, especially when it comes to newer fields of studies, you can expect to see the following colors signify majors in these fields:
White. Traditionally represents degrees in the arts and humanities, including majors in English, history, and literature.
Drab (or beige). Represents business degrees, including accounting and labor relations.
Maize. This corn-colored yellow is especially for agriculture grads.
Green. MDs graduate with hoods of bright kelly green and those with degrees in health care fields wear similar green colors. Physical science majors wear stoles or hoods of sage green, and pharmacy graduates wear a more olive shade of green. However, public health majors wear salmon, and nursing majors wear apricot.
Light blue. This shade is reserved for those with education degrees of all sorts.
Lilac. Dentists want to stand apart from their M.D. friends, so they wear lilac instead of green.
Orange. All fields of engineering wear orange stoles or hoods at graduation.
Purple or Scarlet. Traditionally, scarlet was the province of law school graduates, who now sometimes wear purple instead, perhaps to distinguish themselves from theology students, who also wear scarlet.
Copper. Economics sets itself off with stoles and robes the color of a penny.
Brown. The vast field of fine arts is denoted by brown, including theater arts and visual arts. Some architecture schools use brown, while others align themselves with urban studies and city planning majors, opting for a blue-violet.
Silver. A couple of fields lay claim to silver in academia: Speech and linguistics studies on the one hand, and chiropractic schools on the other.
Crimson. Used exclusively by journalism schools.
Gray. Veterinary science graduates wear gray.
Russet. Forestry and environmental science majors wear this color that blends right in the forest.
Lemon yellow. This very pale yellow indicates a library science major.
Golden yellow. Is reserved for math and most science majors, including physics, chemistry, and practical sciences such as criminology.
Citron. This citrusy yellow is reserved for majors in social work and related fields.
Pink. It's not surprising that music majors get to stand out from the crowd with a shot of pink
Dark blue. Political science and philosophy majors get to wear this dark, serious color.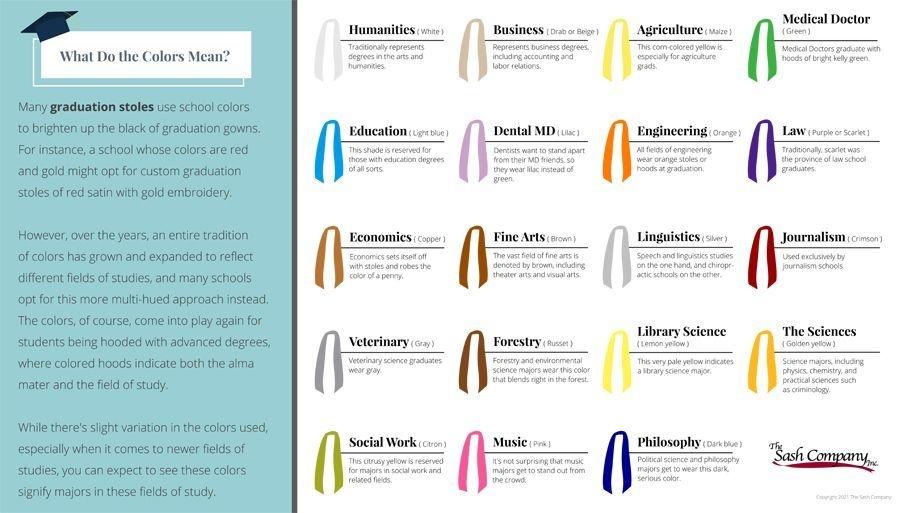 Which Graduation Stole Color Should You Choose?
Your university may make the decision for you by establishing policies about graduation stoles, especially if you've earned a special status such as valedictorian. If you have an option as to color, you may want to choose either your school colors or a color depicting your field of study.
The real choices you have to make, of course, come when you opt to design a custom graduation stole. Perhaps you want to give a shoutout to your fraternity or sorority by having its letters embroidered on your stole. In addition, you could get your Greek organization's logo embroidered in all its glory. Graduates from military academies or those enlisting in military service after graduation may want to proudly display their service.
You may also choose to highlight your major or field of study and to spell out any academic honors you've received.
Whatever unique statement you choose to make with your custom graduation stoles, you're creating a special heirloom that you can treasure to remind you of wonderful memories for years to come.
How to Wear a Graduation Stole
Since most people don't wear academic regalia on a regular basis, adding all the layers can get confusing. Start with the graduation gown. Once you zip it up, pay attention to where the shoulders are sitting, and make sure they're not hanging too far to the back or front.
Your graduation stole comes next. Lift the center of it over your head, and place it on the back of your neck, with the scarf-like ends of the stole, which include any custom embroidery, facing forward. Balance it carefully to make sure the ends are even. If you have academic honors cords to add, they go on next — though since they can be slippery, if they aren't weighted, you may want to tuck or pin the center of the cord under your stole at the back of your neck.
Finally, if you're receiving a master's or doctorate degree, your hood is the final piece of the puzzle. In some ceremonies, you'll receive the hood, with your professors placing it over your head as you accept your diploma. Because the bulk of the hood lies down the back of your academic robe, you don't have to worry that your graduation stole will be hidden.
Where to Find Your Graduation Stole or Sash
While your university may make arrangements for your cap and gown, typically graduates choose and order their own stoles for graduation. At The Sash Company, we make custom graduation stoles in every color and style, so you can find exactly the look you want in the colors of your choice. We'll be happy to help you customize your graduation stole so you can make a personal statement on your big day and have a keepsake to treasure for the future. Contact us today to get started on creating the special memory that is a graduation stole.