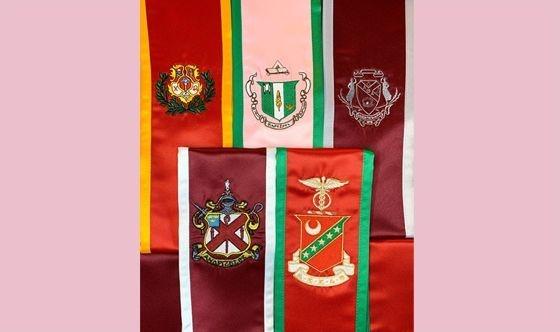 Every year, students march to get their high school or college diplomas wearing caps and gowns that tie them to hundreds of years of tradition and history. If you look at a graduation ceremony from a distance, you may think everyone looks the same.
Step a little closer, though, and you'll see that each graduate is set off with special touches that show off their uniqueness. These elements, which traditionally include graduation stoles, sashes, and cords, have special symbolic meanings in many cases.
Stoles for graduation and the other elements of what's known as academic regalia may not be required by your own college or university — though most schools do require graduates to wear a cap and gown. However, many of these extra adornments are bestowed on you as a special honor, and they combine to tell the unique story of your achievements. Read on to learn about the history and meaning of graduation stoles and sashes and about how they can turn your graduation day into a memory that stays with you forever.
What Is a Graduation Stole?
A graduation stole is one piece of academic regalia that is worn with the cap and gown. It takes the form of a long scarf-like drape, often made of high quality satin, that you hang around your neck. The stole falls down the front of the gown on both sides, usually ending around waist level.
Graduation stoles provide a way to personalize the "uniform" of the cap and gown. You can design a custom graduation stole to show off academic honors, such as a cum laude or summa cum laude graduation. Members of fraternities, sororities, prestigious academic organizations, and other organizations often personalize their stoles to show their loyalty and love for the groups they belong to. Especially in large universities, many graduates add their name of their major or school (e.g., Engineering or Fine Arts) to their graduation stoles.
While some universities have restrictions on what you can add to your stole, usually you have the freedom to add any symbols or labels you want via custom embroidery. In some cases, your university may require or request you to wear a graduation stole. Graduates receiving master's or doctoral degrees wear a hood to denote their advanced degree (the "hood" actually drapes down the back of the academic gown, rather than covering the head), but they may also wear a stole to show off academic awards.
Some graduates choose to also wear a stole of gratitude during their commencement ceremony. While these look very much like traditional graduation stoles, they have a different purpose. After the ceremony, a graduate wearing a stole of gratitude presents it to someone who has made their education possible (often through a significant financial contribution) as a gift of thanks, sometimes signing a personal message in permanent marker on the stole.
The History of Graduation Stoles and Sashes
Graduation stoles, along with the rest of academic regalia, date back almost 1,000 years. Originally, the gowns were based on those that Catholic and Anglican priests wore. Scholars wore them, it's said, to stay warm in underheated academic halls and studies. Through the years, scholars began to wear different types of stoles to set themselves apart from priests.
In the 1400s, scholars — both professors and students — added mortarboards to their outfits. These square academic hats also distinguished scholars from robe-wearing priests, and academic regalia soon became a requirement on campuses, beginning with the English universities Oxford and Cambridge. Early universities founded in the 1700s in America, including Brown, Columbia, and Princeton, also required academic robes as daily wear.
Caps and gowns were required for graduation beginning in the late 1700s, and the tradition continued even after students and professors no longer gowned up for everyday classes.
In the late 1800s, universities got together to mandate what graduation robes and other academic regalia should look like. They determined that master's degree hoods should show off both the color of the school issuing the degree as well as assigning colors to various fields of study. One of the primary reasons for establishing what amounted to a dress code for graduation was to make a statement about equality. The idea was that a wealthy graduate and a scholarship student who couldn't afford to attend college without financial help should all be honored equally at graduation.
Rules for academic regalia, including stoles for graduation, were further refined over the years, with a standing committee created to keep rules clarified in 1959. While robes are still generally black, universities have the option to use their school colors instead. Many schools opt for black robes and use school colors in graduation stoles to add a dash of color and zest to the proceedings.
What's the Difference Between a Stole, a Sash, and a Cord?
Graduation stoles are sometimes called graduation sashes, and you can use the two terms interchangeably. Typically you can only wear one stole, though a master's or doctoral candidate usually pairs a stole with their hood, as do professors wearing academic regalia.
Graduation cords are something else altogether. Typically, these are bestowed on graduates for academic awards or achievements, such as a 4.0 GPA, graduation in the top 5% of the class, or other graduation honors. While any graduate can choose to wear a graduation stole — and most do — an honor cord is granted by the university.
A graduation cord is typically a silk rope that has tassels on either end. Graduates earning many honors can wear multiple cords, with different colors indicating different types of honors. For example, at some school, a single cord indicates cum laude, a doubled cord is for magna cum laude, and summa cum laude graduates wear a triple cord.