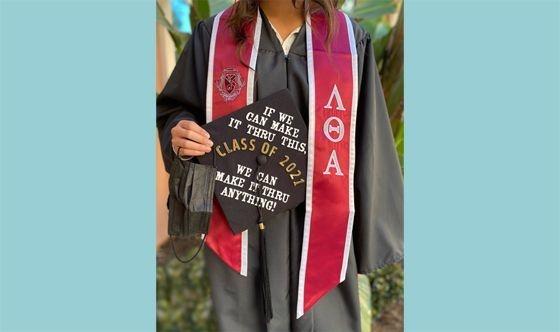 The spring of 2020 was a time unlike any other in recent memory. As early as mid-March, students found themselves out of school and taking classes from home with no indication of when classrooms might welcome them back. The realities of the pandemic, from mortality rate to how the disease spread, were still unknown, leaving parents and students alike with more questions than answers. And, unfortunately, most graduation ceremonies were entirely virtual last year, if they happened at all.
Sadly, spring 2021 is shaping up to be very similar. While the realities of the pandemic are far better understood, and many people have learned to make do as best as possible with masks, hand-washing, and social distancing, plenty of restrictions are still in place. This as left many students and parents wondering: what might graduation day look like in 2021?
The Current State of Schooling
In the age of COVID-19, schooling has been forced to undergo radical changes. Some schools are completely online, while others are using a hybrid model in which students go to school once or twice a week or for partial days to accommodate social distancing. Students who do attend classes in person often have to wear masks or work with plexiglass dividers at their desks to control the possible spread of disease. Many extracurriculars, like band and theater, have been canceled, while sports teams may face an altered or shortened schedule.
Many students have faced changes throughout the school year, too, as infection rates and hospitalization numbers fluctuate. Some schools started in a remote learning format and gradually brought students back over time, while others embraced in-person learning but were forced to switch to a remote format. There's been little consistency on a state or even local level; schooling format has differed greatly based on area legislation and regional virus numbers, as well as other factors like district size and budget.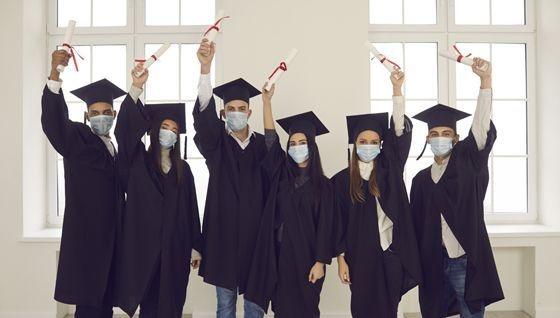 Graduation During the Pandemic
Graduation 2020 was an underwhelming experience for most students, as many schools canceled graduation entirely or live-streamed a few speakers in lieu of a normal ceremony. Some schools even held events in parking lots so students could stay in their cars to maintain social distancing.
As much as students and their families hoped the story would improve, current infection and death rates indicate that the country is still facing a serious problem. It's highly unlikely COVID-19 will be gone by May or June, so what does that mean for graduation in 2021?
No one can know for sure until graduation season arrives. Everyone is hoping for more bright spots in graduating during the pandemic than there were last year, but this won't necessarily be the case.
In states with low infection rates or looser virus-related restrictions, schools may be able to hold outdoor ceremonies with masks and socially-distant seating. In others, especially those with a stricter approach to COVID-19 management and higher case numbers, graduations may still be entirely virtual. Some districts may even embrace a hybrid method, with some students graduating in person and others participating from the safety of home. However, this is a best case scenario, and many schools may cancel graduation ceremonies entirely – robbing students of an important milestone day in their education.
Creating the Perfect Graduation
For seniors facing upcoming graduation, a fear of the unknown – or perhaps the known, for schools that have already announced virtual or hybrid ceremonies – is likely plaguing the spring season. With state and city-specific restrictions changing as infection trends evolve, it's hard to be sure what the end of the school year may bring.
Regardless of personal style preferences, purchasing high-quality stoles for graduation can make any day feel a little more special, even one celebrated at home. A hand-crafted ultra-satin graduation stole to be worn over a gown on stage, at home, or even at a socially-distant graduation party can be an important reminder of a job well done. A graduation stole is also a memento that can be preserved forever, reminding students that they achieved something amazing – even in the midst of a life-altering pandemic.
While a standard grad stole in school colors can be a great way to celebrate on graduation day, custom graduation stoles make an ideal keepsake. The Sash Company's customization options allow students to memorialize the parts of school that meant the most, like sports team participation, varsity letters, academic awards, sorority or fraternity membership, or even a major or specialization. This way, students and families can preserve the good times and let praise-worthy accomplishments live on, even if COVID-19 robs the ability to celebrate traditionally on graduation day.
Pandemic or no pandemic, graduation day is a time to celebrate. Finishing high school or graduating from college is a huge accomplishment, and serves as a big step on the road to future success. With countless options for colors, designs, and styles, stoles for graduation can preserve the best parts of education for years to come, long after COVID-19 has faded from memory. Graduation stoles are the perfect way to celebrate such a big milestone – no matter what shape a ceremony itself may take.