The big question for many graduates is: Should I order a custom stole for graduation, or should I stick with the basic stole in my graduation bundle?
Whenever we attend graduation fairs, I have found many students were pondering this question.
Some of the questions asked at the Sash Company booth were, "Is it worth the extra cost?" "Do I really need it?"
What was cool about all this was in the end, at least 80% of the students that came to our vendor booth ordered a custom graduation stole with us. Some stayed at our both for hours, some made several rounds but in the end, returned to order a hand-crafted graduation sash with us. All in all, students were thrilled to make their custom choices and design their once-in-a-lifetime memory.
I shared with some students my personal story about how I hesitated at first to purchase a custom graduation stole. I feel ordering a custom graduation stole is truly a memorable token of celebrating one's life achievements. That, if I had to do it all again, I would absolutely order one.
So truly, what are the pros and cons of ordering a graduation custom stole? Let's dive in, shall we: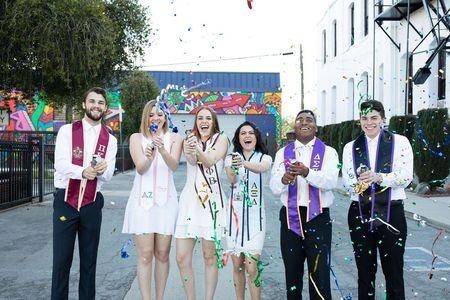 PROS: You can:

Add your degree.
Personalize with your name.
Add the name of a loved one who helped you through school.
Add your favorite quote.
Add a past degree and year.
Customize the color of the stole body.
Customize with one or two additional border colors.
Add some sparkle with one, two or three rows of rhinestones.
Add a fraternity/sorority crest or logo.
Be unique.
Stand out.
Be you!
CONS
You pay an extra cost to get the perfect custom designed graduation stole.
As you can see, I could only think of one disadvantage. So graduates, whether you choose to customize or not – Congratulations on your hard work. This is your time to show the world your accomplishments!