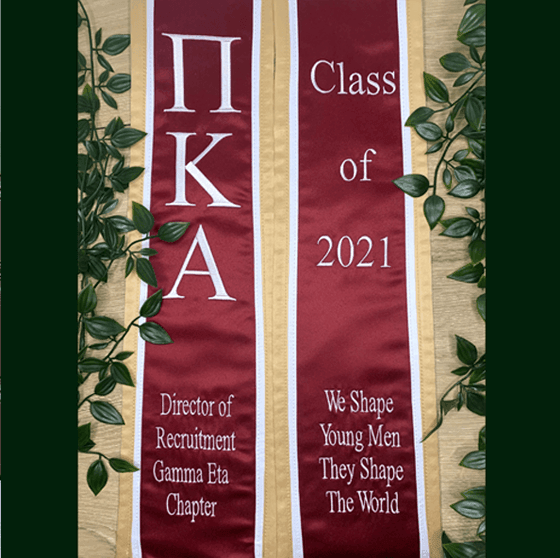 It's your last day of college or high school — and you have a lot to celebrate. You'll be taking photos all over the campus you've loved for the last few years, maybe for the last time. Treasure your memories by commemorating them on a custom graduation sash that will stay with you forever.
As you walk down that aisle, with the refrain of "Pomp and Circumstance" sounding all around you, you'll be surrounded by dozens, maybe even hundreds or thousands of others also wearing their caps and gowns. But no one else has had the unique experience you've had. You deserve to stand out with a one-of-a-kind custom graduation sash that proclaims what your high school or college experience has meant to you.
With custom graduation stoles, you can celebrate your achievements, showing them off to the world in a way that becomes a special keepsake. You can give a shoutout to the people you love — your fraternity or sorority, your clubs, or your academic department. You can even create custom stoles of gratitude that pay tribute to the special people who got you to this priceless moment in your life.
Take a look at all the special ways you can design your custom graduation sash to make your commencement a day you'll treasure forever.
Custom Stoles to Celebrate Greek Organizations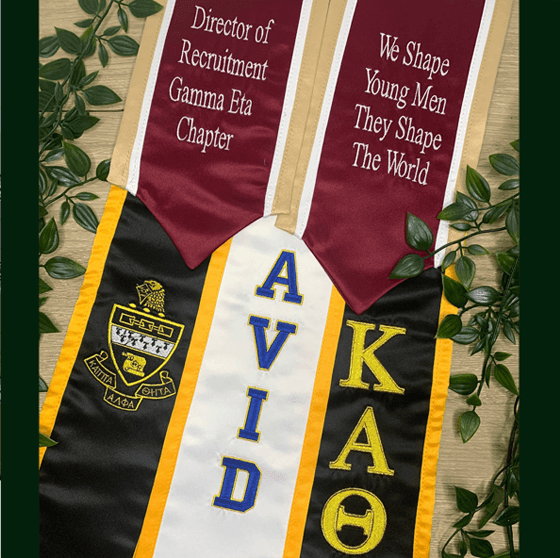 The brothers and sisters you shared your life with for four years through your fraternity or sorority will always be some of the most important people in your life — and the moment you part from them at graduation will always be one of your most poignant memories.
Share this special moment with those brothers and sisters with a custom graduation sash that commemorates your unbreakable bond with them. Being able to glimpse your matching tributes to your Greek organization as you walk down the aisle with these forever friends will make your commencement even more special. Everyone watching will know how proud you are of your fraternity or sorority, and your photos will be extra sweet to look at in the future.
At The Sash Company, we can deliver not just your Greek letters from alpha to omega. We also are ready to place your fraternity or sorority crest on your sash, in full color, to help you stand out from the crowd.
You can even add your pledge class for a little extra bonding with your fellow graduates. Commemorate your brothers and sisters to help make your custom graduation sash honoring your Greek organization a priceless keepsake.
Custom Stoles to Honor Military Service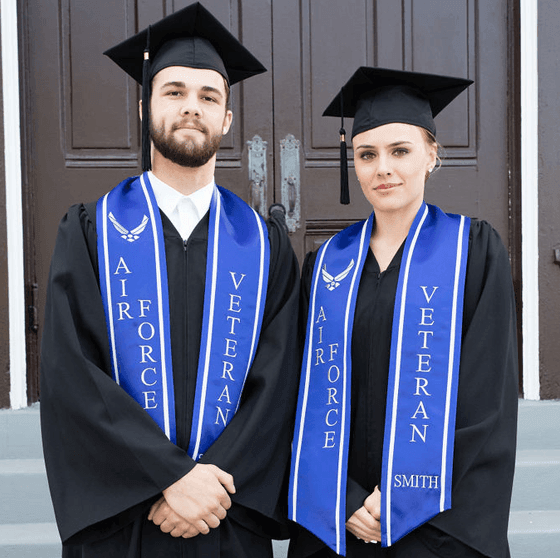 Graduates who have served their country in the military deserve special recognition, as do alums who are about to start their military service. Military graduation stoles let everyone who sees you at commencement realize they're honoring your service as well as your academic achievements.
With The Sash Company's military and veteran graduation stoles, you can share your full story as you graduate. Choose stoles in the colors of your service, or add a commemoration of your military service to a stole in your college's colors. We have stoles waiting for you to honor your service in the Army, Navy, Air Force, Marines, or Coast Guard.
Add an American flag to show the world your patriotism, or opt for the seal of your branch of service to show off your pride. You can also proudly proclaim your status as a veteran on your custom graduation stole. No matter how you design your unique stole, it will remain a treasured commemoration of your service and achievements.
Custom Stoles to Note Academic Achievement and Special Programs
Have you achieved something special academically as you graduate from college or high school? Perhaps you're graduating cum laude, magna cum laude, or summa cum laude, or maybe you've been invited into a prestigious honors society such as Phi Beta Kappa or the Golden Key. These honors will certainly be noted in your graduation program and possibly even on your diploma — and they're worth calling attention to on your graduation stoles as well.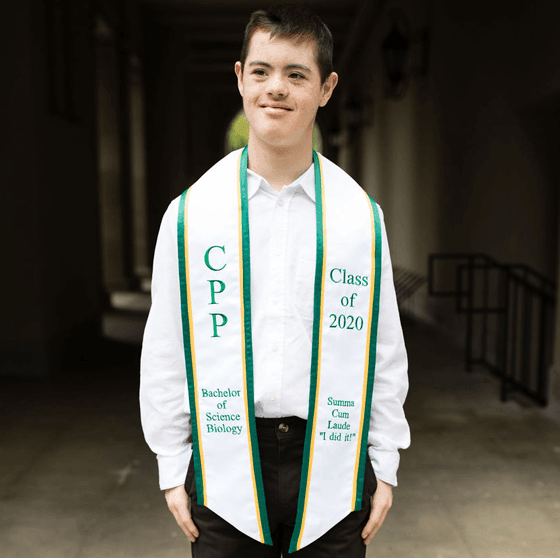 In addition, many graduates like to call out the individual school they attended within their university or even note their major on their graduation sash. For example, if you're graduating from your university's film school or engineering school, you might want to give it a shoutout by mentioning it on your stole. In addition, if you're graduating from a special professional program, you may want to mark the occasion with a special stole.
In addition, you may want to choose a custom graduation sash in a color that signifies your major. At some universities, graduation stoles are expected to use the school colors. But in other cases, you can choose your own colors, following a centuries-old tradition that is reflected today in the hoods given to graduate students who have earned advanced degrees.
For example, beige stoles traditionally represent business and accounting degrees, while light blue indicates education majors. You can wear silver to show off your linguistics major, lemon yellow to highlight your library science degree, or dark blue to let people know you're a political science major. Music majors get to be trend-setting with pink stoles, and engineering majors make a splash with their orange stoles. Check out what different colors mean here so you can make an informed choice.
Custom Stoles of Gratitude
A newer custom that has swept by country by storm is the stole of gratitude. This is a custom stole designed to honor someone special in the graduate's life. That might be a parent or grandparent, or someone else who provided the moral support or the financial wherewithal to make the student's education and graduation possible.
Stoles of gratitude typically express a heartfelt sentiment saying thank you to the recipient. You can have whatever you want to be embroidered on the stole as a special message that will be treasured forever.
You have a couple of choices when delivering your stole of gratitude. Usually, the graduate wears the stole during the commencement ceremony, sometimes over their own graduation stole. After the ceremony, they present the stole of gratitude to the person they want to thank. Another option? Present the stole of gratitude before the ceremony begins so your loved one can wear it proudly during the ceremony before taking it home to preserve it as a special keepsake.
Custom Designing Your Unique Stole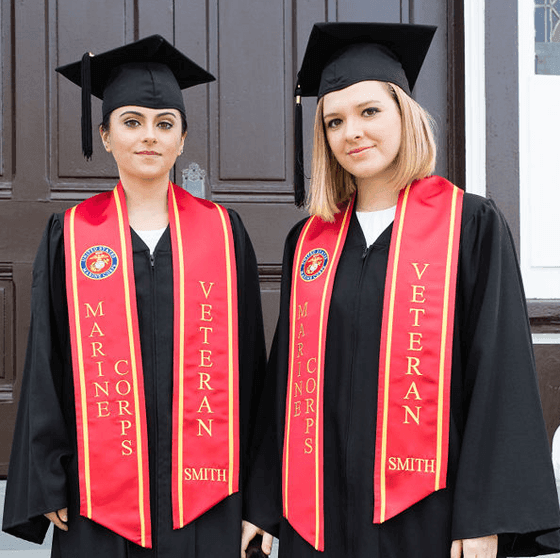 When graduation is approaching, you want to know that your custom graduation sash will arrive exactly as you envision it for this once-in-a-lifetime event. That's why The Sash Company puts such care and artistry into all our custom graduation stoles. We can help you design your custom stole — or we're happy to help your entire fraternity, sorority, or club design matching stoles.
When you order a custom stole from us, you get a beautiful result, handcrafted using top-grade satin and embroidery. And no matter where you are, we promise to get your stole to you in time for your big celebration. Contact us today to custom design the graduation stole that shows the world who you really are and what you've accomplished.